This module is a prerequisite for the NZUNS conference

The contents of this module was created to ensure consistent safe and competent IDC of adult males.  Staff who with in their normal duties would be expected to perform male catheterisations should complete this as a first step in gaining clinical competency.

The contents of this course have been supplied with thanks from Counties Manukau Health
This resource has been created to support the development of all Maternal Mental Health clinical team workers.
We're currently building up and enhancing this resource. We encourage you to revisit it as we continue to build it. We appreciate any feedback you have and you can provide this using the feedback function within the resource.

Family violence, including intimate partner violence, is affecting the health of many people in New Zealand. The quality of information within a significant number of medicolegal reports prepared by doctors working in this area of healthcare demonstrates a lack of training in this assessment. There is a need to educate doctors who perform forensic assessments in regard to the particular symptoms & signs which might be found in the situation of alleged (non-fatal) strangulation
Purpose
Raise awareness of Non-Fatal Strangulation (NFS)
To provide a standard approach to evaluation & management of patients who have been strangled and who are seen by clinicians in a sexual assault assessment and treatment service (SAATS) or by a police medical officer.
This can also be used by other health care staff such as ED / A & M clinic medical staff & GPs who may be asked to evaluate patients who have experienced NFS
Targeted Learners:
This course is specifically for all clinicians who work in DHB sexual assault assessment & treatment services (SAATS) and police medical officers who are required to assess patients who have experienced a non-fatal strangulation.
To access this course
Professional Development Hours: 1.5 hrs
This e-learning programme examines the processes before, during and after pregnancy that can influence a child's later risk of developing obesity and non-communicable diseases such as heart disease, diabetes, allergies and some cancers.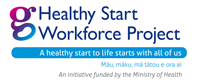 It explores the latest scientific evidence and shows how a mother's nutrition and physical activity can affect the metabolic, physiological and neurological development of the unborn baby and the infant's long-term wellbeing, as well as the ongoing health of the mother.
The course then examines the practical advice and recommendations, including Ministry of Health guidelines, that stem from this knowledge.
Developmental Origins of Health and Disease and non-communicable diseases.

The importance of fetal nutrition for a healthy life: the scientific basis.

The links between maternal and fetal nutrition and life-long health outcomes.

Healthy eating during and after pregnancy: the evidence for current recommendations.

Physical activity during pregnancy.

Breastfeeding: the benefits of nature's super-food for infant development and maternal health.

Introducing complementary foods.

Creating a SMARTER Plan to help strengthen your practice.
The course has been provided with thanks from the Healthy Start Workforce project